Post #:
201
Post type:
Blog post
Date:
2013-07-16 21:03:24.000
Author:
Jeremy Reimer
Tags:
newLISP Blog, 3D Modeling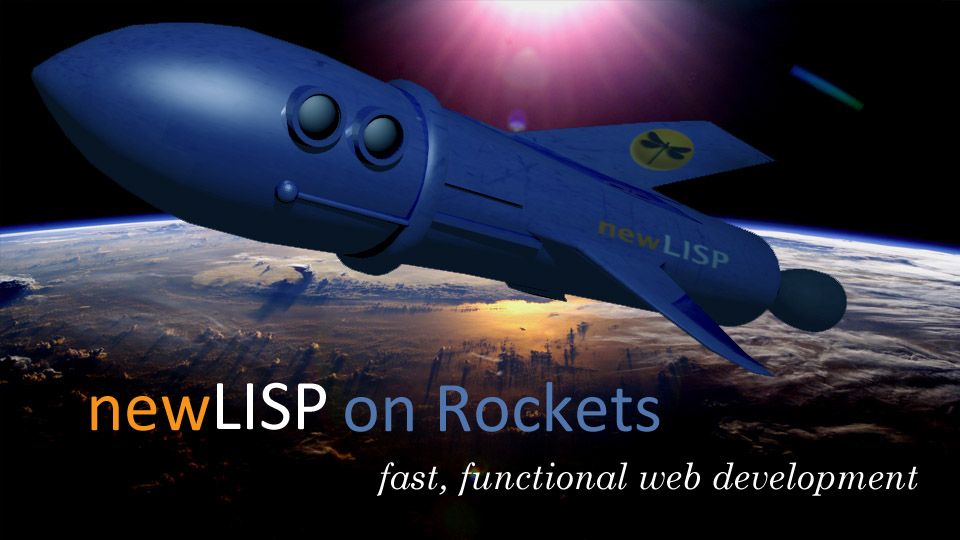 newLISP on Rockets is my rapid web application development framework, which powers this blog and other sites. The code is available for free under the GPL at the newLISP on Rockets Blog.

I decided that I wanted to have a little nicer-looking logo and front page graphic for the framework than the little cartoon rocket I started with. So I whipped up a new model in Blender using simple cylinders and basic commands like Extrude and Size. Blender is really easy once you get the hang of all the shortcut keys, and those keys make things MUCH faster than using primarily mouse-driven 3D software.

I UV-unwrapped the model in Blender, got a free stock metal texture from newlisp.org.) The background picture is from a NASA weather observation satellite.
Views: 5494
---
Post #:
199
Post type:
Blog post
Date:
2013-07-11 13:43:16.000
Author:
Jeremy Reimer
Tags:
Writing, Science Fiction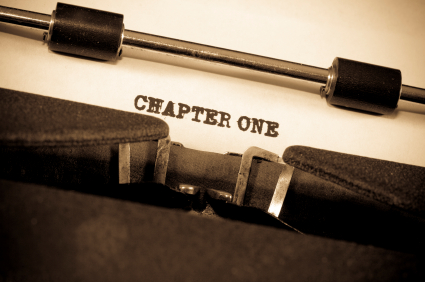 Eighteen days ago, I made a decision that changed the fate of my third novel.

I decided I would write a thousand words each day, every day, without stopping, until I was finished.

At first it was hard to know if this was even going to work. My writing schedule for the first two novels was maybe 350 words on weekdays, occasionally doubling that if I was really productive. It took about a year to finish a novel, as long as I didn't get distracted or miss too many days in a row.

I worried a bit that I would just be writing crap to make the word count. Sure, I could always go back and fix it later, but what if it was unfixable crap? It turns out that's not how it happens. The fixed word count policy actually increased the overall quality of the text.

How could this be possible?

If you don't take a day off, even on weekends, your brain never stops thinking about the story. Every day you have to have something to write, so during the day your mind is always thinking about what you wrote the night before. When it comes time to write, you rarely feel blocked.

I chose to write in the evening, on my laptop, just before I go to sleep. To avoid staying up all night, I installed f.lux, a free application that changes the color temperature of my laptop after sunset to look less like the daytime sun. This ends up working perfectly. By the time I'm finished writing, I'm satisfied and ready for rest.

I'm going to keep writing every day in this way until I finish my novel. It really is a great way to write. If you find yourself struggling for motivation, I definitely recommend doing this.

Comments (2)
Views: 5832
---
Post #:
198
Post type:
Podcast
Date:
2013-07-10 12:23:44.000
Author:
Jeremy Reimer
Tags:
Knotty Geeks
This week on Zombie Geeks, we eat brains. And when we eat brains, we discuss why eating brains is so prevalent in modern-day society, when there are many other delicious food choices available.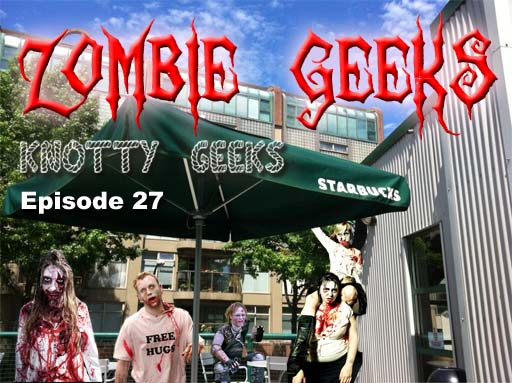 Like all mindless zombies, we went to Starbucks for coffee to do this podcast. Terry, Brian and I talked about why zombies are so popular these days and what to do about it.

Links from the show: BRAAAAAAAINS!

Here's a quote from one of the academic papers that Terry found on zombies:

"…expresses, with unique force and intensity, at least one important aspect of what the horror film has come to signify, the sense of a civilization condemning itself, through its popular culture, to ultimate disintegration, and ambivalently (with the simultaneous horror/wish fulfillment of nightmare) celebrating the fact."






uploads/Knotty_Geeks_Episode_27.mp3" />
Knotty_Geeks_Episode_27.mp3" width="290" height="24" />



Views: 5588
---
Post #:
196
Post type:
Blog post
Date:
2013-07-05 12:51:54.000
Author:
Jeremy Reimer
Tags:
Masters Trilogy, Novels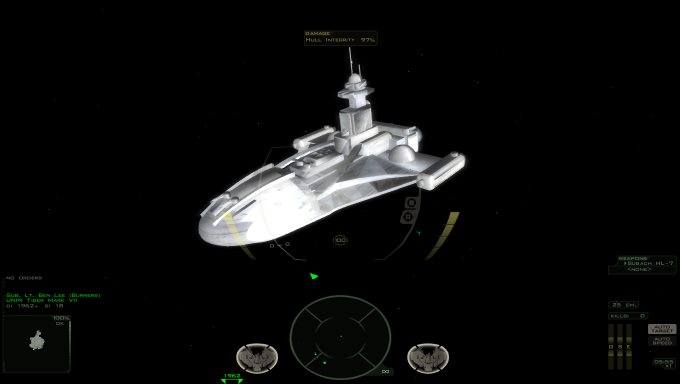 This is from my in-progress game mod using the Freespace2Open engine. I added a few more polygons to the model, fixed some flipped normals (I'm always flipping my normals!) and added a new texture. I still have to fix the UV wrapping and add more texture details to various spots, but it's looking a lot more like my original vision all the time.

Here's a closer look. You can see the turrets, and the various decals on the side. I still have to add bump maps, glow maps, engine glow, and all sorts of other niceties. But I'm getting there!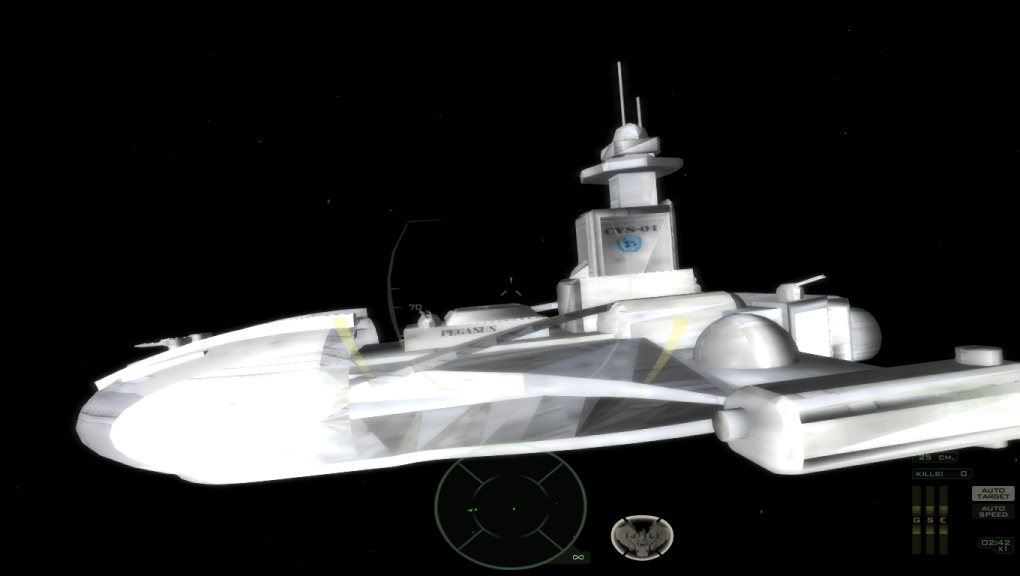 Views: 5295
---
Post #:
195
Post type:
Blog post
Date:
2013-07-04 18:42:56.000
Author:
Jeremy Reimer
Tags:
Entrepreneur



Thanks to my good friend Lois, I found out about the Startup Grind: Vancouver event that went on yesterday. The special guest speaker was Boris Wertz, who cofounded JustBooks, a used book trading site that was acquired by AbeBooks and then later Amazon.

Boris had some great stories about the pre-dotcom boom days of the late 1990s, when Web 1.0 ruled the world for a very brief period of time. Like many a successful entrepreneur, Boris became an angel investor and is now a venture capitalist, helping to fund the next generation of startups.

The most interesting thing Boris said was when someone asked if succeeding as an entrepreneur was easier today or fifteen years ago. He argued that it is harder to be successful today. Ironically, the reason is because it is so much easier to start a company than ever before!

Back in the day, it took $200,000 of venture capital just to purchase the server hardware and software needed to just have a website! Whereas today you can just use Amazon EC2 and start a website for free, using free software tools (like, say, newLISP on Rockets!)

So because it cost more to get off the ground, there were far fewer Internet companies back then. Once you got funded you were off to the races. Now, sure, it's easy to start a website, but you have to compete with the millions of people who are also starting websites.

I see parallels in this story to the publishing industry. Back in the day you had to get approved by a publisher, but once you did, you were guaranteed sales because you were in the bookstores. Now, anybody can publish, but making money is harder.

It's just the way the world has gone, however. I think it's a mistake to try and live life by the scripts that worked for people fifteen years ago. We have to write our own stories.

I met a lot of interesting people at the networking portion of the talk. I was glad to see that it wasn't twentysomethings-- there were lots of people of all ages, and lots of people trying different paths to entrepreneurship. One interesting fellow is building a company all by himself using just the server in his basement, but he has some great ideas. I'll be checking that site out when it launches next week.

Overall, it was a great event. It made me realize that there are many different paths to starting a business, and following the techniques that worked for others in the past may not be the best idea. We all just have to muddle through and figure things out ourselves. As Boris said, if he pitched his old team and idea to his venture capital company today, he wouldn't fund himself!

I'm still figuring out my own path. Like many things in my life, I'm confident I'll get there eventually.
Comments (1)
Views: 5383
---
Post #:
194
Post type:
Podcast
Date:
2013-06-29 20:00:05.000
Author:
Jeremy Reimer
Tags:
Knotty Geeks
This episode is about ten minutes shorter than usual, and that's because I managed to accidentally stop the recording without noticing it for about ten minutes. Needless to say that ten minutes that was lost was the most amazing, epic, mind-blowing discussion ever.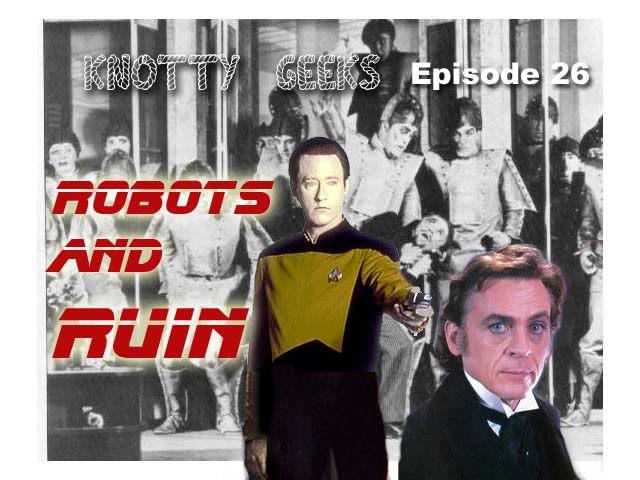 Never mind that! The rest is pretty good too. Terry and Brian Palfrey and I went down to the beach and moved around some stumps to create an impromptu Round Table, then we talked about robots, and Star Trek, and what it all means. Then we watched some guy fly a couple of kites.






uploads/Knotty_Geeks_Episode_26.mp3" />
Knotty_Geeks_Episode_26.mp3" width="290" height="24" />


Download .mp3 file directly or play on iDevice
Views: 5317
---
Post #:
193
Post type:
Blog post
Date:
2013-06-27 20:56:27.000
Author:
Jeremy Reimer
Tags:
Computers, Operating Systems


A lot of people today have some sort of vague idea about what OS/2 was, why it existed, and why it failed. Why did IBM fail to unseat Microsoft Windows? The reasons are many, but mostly it boils down to a very successful big computer company being afraid of disruptive change.

IBM hired Microsoft to write OS/2 because IBM wasn't confident in writing PC software. But IBM still had control of the design of OS/2, even though Microsoft was writing the code. The 386 chip had been released in 1985, but IBM wanted to write OS/2 to support the older 286 chip instead, a chip that Bill Gates had called "brain-damaged". IBM didn't want to code for the 386 because they were worried it was too powerful, and would cut into their profitable AS/400 minicomputer business.

So if Gates didn't like the 286, why did he let Microsoft go along with IBM's plan? Because at the time IBM bestrode the PC industry like a Colossus. IBM was the "bear" and you were either riding the bear or you were under the bear, so Microsoft was going to ride the bear as long as they had to. If that meant dealing with IBM's strange decisions, so be it. IBM made the rules for the PC industry, and Microsoft followed. Microsoft owed everything they had to the IBM PC and the clones that followed.

But Microsoft was smart enough to see that the winds were changing. IBM couldn't hold back progress forever, and the decision to design OS/2 around the 286 meant that legacy DOS apps had to be run in the "penalty box", a compatibility box that could only run one app at a time and didn't work with many apps anyway. (The 386, in contrast, had a 'virtual 8088' mode that made multitasking many DOS apps fairly trivial).

So while Microsoft outwardly was promoting OS/2 as the next big thing, inwardly they kept dogging away at their Windows thing and they supported the 386 rather quickly (Windows/386 was in fact a special version of Windows 2.0 that multitasked DOS apps using the virtual 8088 mode, and all future versions of Windows would support this feature).

When Windows 3.0 was getting ready to be released, IBM offered to handle all the marketing and promotion, but in exchange IBM would own the code and the future of Windows. Microsoft wisely walked away from the deal. This was the beginning of the Microsoft-IBM divorce.

Windows 3.0 ended up being a smash success, and Microsoft realized that if they just kept telling other people that OS/2 was the future while they built their own Windows apps and stopped putting any real effort into OS/2, they could eventually own the world. Companies like Lotus that hated Microsoft with a passion just couldn't wait to support OS/2 and ignore Windows. 1-2-3 for OS/2 (called 1-2-3/G) actually shipped before 1-2-3 for Windows. This gave Excel a chance to come in and just swoop up all the 1-2-3 for DOS users that were without a viable upgrade (1-2-3/G was not only late and missing features but performed extremely poorly) IBM eventually released a version of OS/2 that was coded for the 386 (although it still had 286 code in it for a long time) and tried to market it on their own with OS/2 Warp, but by that time IBM was no longer the standards setter in the PC business.

So what lessons can we learn here? IBM was afraid to push ahead its PC operating systems business because it might cut into sales of the more profitable minicomputer and mainframe lines. Microsoft, a more nimble and agile company, was able to ride this transition while preparing their own more powerful PC operating systems.

These days, Windows is the entrenched monopoly, and mobile devices are the disruptive force. The iPhone and iPad (and Android models) are rapidly becoming more powerful and finding their way into traditional personal computer use cases.

Windows, in this case, is the new AS/400, and the iPad is the new 386 PC. Microsoft doesn't want to make the same mistake IBM did, so they are trying to make their own "386 PC" with Surface and unify their own "tablet experience" with the old school Windows. Thus you get the sort of odd hybrid that is Windows 8.

The market reaction to Windows 8 has not been positive, but Microsoft is used to playing the long game. Don't count them out just yet.
Views: 6130
---
Post #:
192
Post type:
Blog post
Date:
2013-06-23 12:48:13.000
Author:
Jeremy Reimer
Tags:
Gaming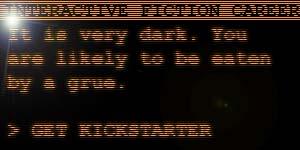 In my review of Get Lamp, the documentary about text adventures, I mentioned that the original Infocom employees believed the market for these games could exist for hundreds of years. After all, the novel is still around today and, despite stiff competition from movies and video games, writing fiction is still a profitable endeavor. Why not interactive fiction?

The reality, however, is that since the demise of Infocom in 1989, many people have tried to make interactive fiction into a commercial endeavor. None have been able to figure out how to make the financial side work—until recently. Everything changed with the rise of smartphones and tablets.

I had a lot of fun interviewing people like Michael Berlyn for this article, and I think it came out really well. Now I kind of want to write my own text adventure... hmm...
http://arstechnica.com/gaming/2013/06/heirs-of-infocom-where-interactive-fiction-authors-and-games-stand-today/


Comments (2)
Views: 5846
---
Post #:
191
Post type:
Blog post
Date:
2013-06-21 21:45:24.000
Author:
Jeremy Reimer
Tags:
Starcraft, gaming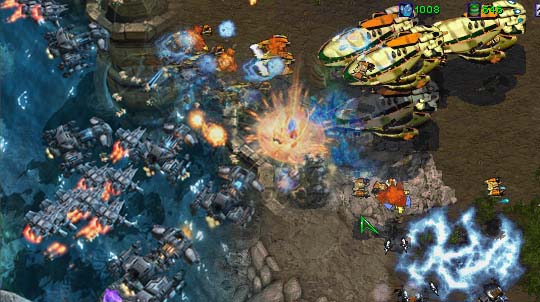 This discussion comes up all the time on forums, between fans of the original Starcraft and fans of Starcraft II, in particular, the professional scenes that evolved around those games.

I watched a ton of both, so I figure I have some idea about which game was "better".

But the answer, like many things in life, is much more complicated than just "this game is better than that game."

Pro Starcraft Brood War at its height, from 2006-2008, was a very unique thing, unlikely to ever be repeated. The scene essentially was 100% Korean, and 100% KeSPA. There were foreigner tournaments, but the level of play was ridiculously low. The players were essentially amateurs. Day[9] was a high school kid and Artosis would quit his job every year a few months before WCG regionals to practice. These were the top-level non-Korean players at the time. Whenever they played Koreans, (which was only once a year) they would get utterly and completely destroyed, like playing against the computer on "Easy" level destroyed.

Meanwhile, in Korea, KeSPA ruled with an iron fist. To stay on a team you HAD to practice well, like 10 hours a day MINIMUM, and you had to work with the coach and do whatever he said and take no breaks ever and you had no negotiating power for your salary AT ALL, and if you didn't like it? Too bad, there are 50 Koreans begging to replace you. Deal with it.

This pressure cooker environment weeded out the weak and left only the super-strong. Players like Flash and Jaedong would practice until their eyes bled (in Jaedong's case, this was literally true). The level of competition was so close at the top that any player could take down any player, so everyone had to be on top of their game. This made for exciting matches, with daring cheese and "economic" cheese plays thrown in with series where the multitasking and macro levels went through the roof. It was exciting.

With Starcraft II, everything changed. KeSPA players weren't playing originally, so the Korean scene was made up of B-teamers, formerly retired players, and a smattering of foreigners, a few of whom managed to do quite well and even won tournaments. The Koreans were overall better, but it wasn't a complete roflstomp like it was in the Brood War days. This was exciting, but for a different reason. The games weren't as high-level. They just weren't. But the situation was different. It wasn't just KeSPA. There was a thriving international scene. Players could win tournaments without being slaves working in the salt mines 12 hours a day. They could actually compete for teams to get the best salary possible (this was never possible in KeSPA-- the "free agency" they offered was in fact the exact opposite)

The game itself also had some problems. One of the biggest was Broodlord-Infestor. This was actually something that happened almost every game in PvZ, and Protoss had only the "casual fun unit" of the Mothership to try and get a lucky Vortex, and if it missed, or the Zerg split the Brood Lords, or Neural Parasited the Mothership, too bad, it was over. This wasn't so much fun to watch.

Now, with Heart of the Swarm released and the KeSPA players switching over, things are different yet again. HoTS fixed a lot of problems with the original Starcraft II. Protoss got a counter to Brood Lords (the Tempest) so PvZ wasn't quite as dumb as it used to be. Terrans got Widow Mines which made things more random and yet skilled players could also bait the shots out with single units. Zerg got Swarm Hosts, which aren't as good as Lurkers but at least they made for some different strategies and let them "siege up" and do different things, and Vipers allow high-APM players to do amazing abducts. Even Oracles reward the super-skilled, high-multitasking player. It's better than Wings of Liberty. MUCH better.

Is it as good as Brood War? That really depends on how you look at it. The KeSPA players are certainly taking it to the next level-- look at recent GSLs or Proleague-- these guys are just hammering through different ideas and builds and they are starting to dominate again. But KeSPA doesn't allow them to travel to international events (with the one exception of MLG) and so they are still isolated from the international scene in some ways.

But is the GAME ITSELF as good as Brood War? That's really hard to say. I think a lot of what made Brood War great was the players. They suffered for our entertainment, but they raised the game to an art form doing so.

There was something that happened at the end of Brood War when players had to do a "hybrid Proleague", where they alternated Brood War and Starcraft II (at the time, Wings of Liberty). I don't know if you watched any of the games, but I did. They were terrible. The KeSPA players didn't care about the game any more because they were all practicing Starcraft II. So when they played Brood War, they just did whatever, and hoped their mechanics would save them. It worked, but dear God the games were boring. THEY WERE BORING.

I thought about this, and I figured that a lot of what made Brood War special, the amazing "metagame", wasn't so much a factor of the game itself, but it was something the players brought to the game.

The other thing is that back in the day, the KeSPA players were it. There were only so many teams, and each team had only so many players on their playing roster. Sometimes a B-teamer would make it up to the big leagues, and sometimes players retired, but at any given time you had maybe 10 teams and maybe 8 players on the bench. 80 players. There are easily three to four times the number of pro players in Starcraft II.

Having fewer players makes it easier to build storylines, to build rivalries, and to build hype. There were also fewer tournaments, so each one was more special. In Starcraft II, there is a tournament every week and every weekend, and sometimes two at a time.

So, a lot of it is nostalgia, but justified nostalgia in some ways.

A tiny amount of it might be the game itself. It might be. I'm not willing to rule that out.

But things change. Sometimes you fall in love with a game and sometimes you fall out of love with it.

There are pro Brood War tournaments starting to happen in Korea these days. People love the game that much that they will play it even without KeSPA support and salaries. I've watched a few of these games. They're pretty terrible. These are former pros, but they aren't doing the amazing things that I remember from Brood War. They're doing dumb things and winning for dumb reasons. I can't watch them, even though they are playing the ostensibly "better" game. Not even for the nostalgia value. I tried. The excitement just isn't there.

And it is there for Starcraft II. So I'll continue to watch.


Views: 12049
---
Post #:
190
Post type:
Blog post
Date:
2013-06-17 11:19:39.000
Author:
Jeremy Reimer
Tags:
Starcraft
This was a photoshop I made after an Inside the Game episode when djWHEAT joked that if Starcraft II added a fourth race it should be the Cat race. I took some of the most famous Internet cats and combined them into a devastating new race!

Watch out for the Longcat Nydus drop!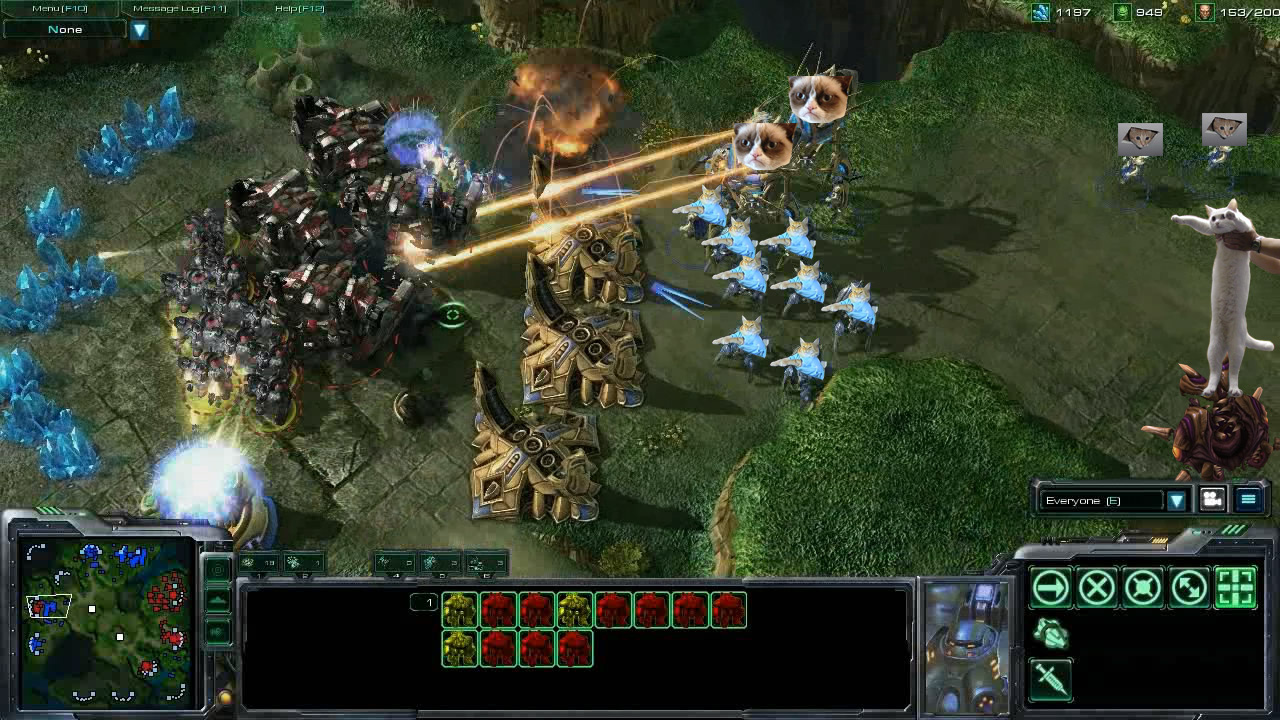 Views: 5597
---