Post #:
267
Post type:
Blog post
Date:
2019-10-08 21:57:50.000
Author:
Jeremy Reimer
Tags: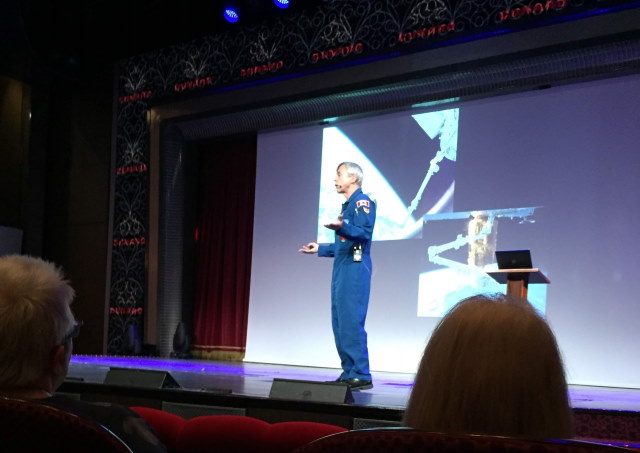 I just got back from an adventure on the high seas. My two favorite aunts found a space-themed cruise sailing from Southampton to New York on the Queen Mary 2, and invited my wife and I to join them.

The ship was magnificent. Commissioned in 2003, the QM2 is the last ocean liner remaining in service. With a sleek design evocative of the old White Star liners, the ship plowed through the Atlantic waves with little effort. Fortunately no icebergs were in sight!

On board was an all-star lineup of speakers including the Canadian astronaut Dr. Robert Thirsk, who talked about his experiences on both the Space Shuttle and the International Space Station. Dr. Thirsk was humble and modest, even though he has several advanced degrees and has been to space multiple times.

Other great speakers included Dr. Dan Wilkins, who gave a fascinating talk about supermassive black holes, and Stephen Attenborough, who gave us just a taste of what it might be like to join the 500-odd people who have ever been to space by purchasing a ticket with Virgin Galactic.

The talks inspired me and reminded me of the joy I experienced as a child watching Carl Sagan explain the wonders of the universe on Cosmos. It made me realize how much I missed learning about astronomy and space science. Next year, after I've launched Silicon Minds of Mars, I'll start thinking about how I could get back to that joy of discovery.
---
---
---
---
---
View this post in the forums
Views: 5309
---