Post #:
225
Post type:
Blog post
Date:
2014-06-24 12:07:59.000
Author:
Jeremy Reimer
Tags:
Gaming, Writing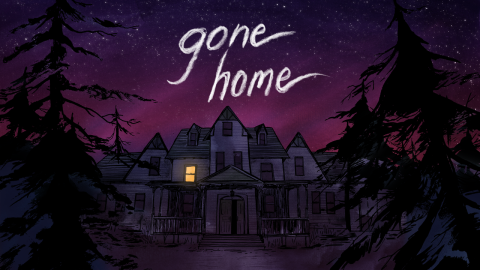 Gone Home got a lot of positive press when it was released last August, but many people bristled at the idea of paying $20 for what was ultimately a very short, if innovative, gaming experience. Yesterday I picked it up on a Steam Sale for $2.99 and enjoyed every minute of it. While I finished the game in a single evening, I found myself still thinking about it the next day, and I suspect I will continue to mull it over for some time to come. There is depth in this game, and artistry. The developers clearly had something to say, and they communicated their message in a new and unique way.

The game begins in June 1995. You are a female protagonist, Kaitlin Greenbriar, returning home after a year-long trip to Europe. When you get home, there is a note on the door from your younger sister, Sam, saying that she was sorry she couldn't meet you. Your parents are nowhere to be seen. The combination of an empty house, flickering lights, and a howling storm outside creates a spooky atmosphere. As you move through the house you are tempted to turn on every possible light and leave them on. There are no other people to interact with in Gone Home, but a story is told through voice-overs from your sister Sam that trigger when you examine certain objects. Whether these are simply letters that Sam wrote or tapes she recorded isn't entirely clear, but they serve as the backbone of the story. In addition to these voice-overs, there are tons of little clues strewn throughout the house: letters, invoices, detention slips, and so forth. Many objects can be picked up, examined, and even moved around the house, but only a few have significant meaning. I found myself picking up pens from drawers and leaving them on top of tables, just for fun.

As you proceed through the house you end up unlocking new sections and learning more about your sister and your parents. Your father once wrote a couple of science-fiction books involving time travel and the assassination of JFK, but fell out of favor with his publisher and ended up doing contract work writing reviews for a consumer electronics magazine. As an aspiring novelist who pays the bills as a technical writer, this resonated with me. Sam is also an aspiring writer, as you discover when you find ever-evolving stories from various point in her childhood. You also learn about Sam's growing and complex relationship with her friend Lonnie, which becomes the driving point of the narrative.

The puzzles in Gone Home are fairly easy to solve. This isn't like the adventure games of old where you had to find the blob of guacamole and attach it to the rubber chicken with the pulley in it, just so you could get past the annoying clown. Instead, the game rewards slow, thoughtful exploration. There are tons of objects to find in each room that give more background information about your parents and even the original owner of the spooky home. It turns out that the family had just moved into the house (packing boxes are visible everywhere) while your character was on vacation, so it makes perfect narrative sense that your character would be exploring the house for the first time. This brilliant move puts you and your character on the same footing, making the experience even more immersive.

The choice of 1995 as the time frame for the game was a deliberate one by the designers, as that was the last year before information technology became ubiquitous in family life. This also makes the game a great nostalgia trip for finding all the trappings of mid-90's life that have since vanished: tape cassettes and recorders, VHS tapes and VCRs, Super Nintendo, and answering machines.

I loved every moment of Gone Home. Although the flash sale is over, it's still only $4.99 from the Steam Store, and it runs on Windows, Mac OSX, and Linux, so there's no excuse for you not to play it!
View this post in the forums
Views: 6180
---