Post #:
169
Post type:
Blog post
Date:
2013-04-09 20:21:33.000
Author:
Jeremy Reimer
Tags:
Writing, Science Fiction
I've long been an avid fan of 3D modeling, but the software is usually expensive and takes hundreds of hours to learn.

For those who don't want to invest quite that much money and time, there is Sculptris from Pixologic. The basic application is free, with a more professional version available if you want.

It takes a much more artist-friendly approach to 3D. You start off with a big sphere, and use the mouse (although it works MUCH better with a graphics tablet, even a simple one like my entry-level Bamboo works great) to stretch, pinch, grow, and contract. It feels very much like sculpting clay. A bit of pulling and smoothing later, and you can create a very organic-looking 3D mesh. Here's my first attempt at modeling my Ke'ea race of intelligent avians: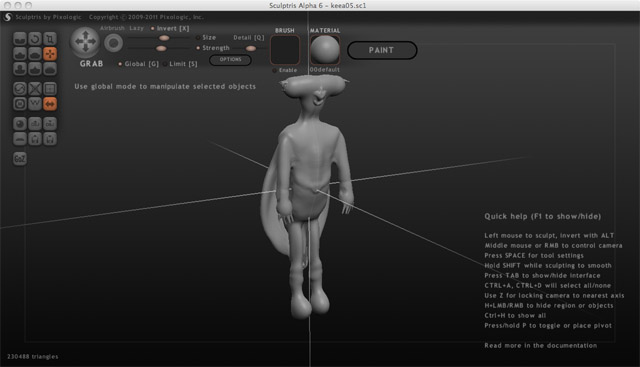 The program also includes texturemapping that works with the mouse or tablet to "paint" textures right on the surface. It's very cool, and the price is right!
View this post in the forums
Views: 5446
---