Posted on: 2023-01-15 07:14:04.000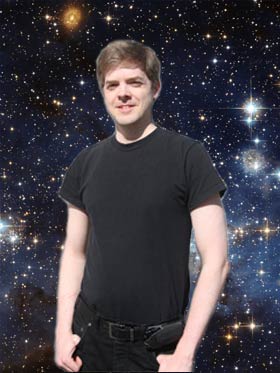 Biography
I was born in Vancouver, British Columbia on March 16, 1972, to Louis Elton Reimer and Gail Patricia (Edmondson) Reimer. Our family moved to Winlaw (close to Nelson) in the interior of BC when I was just one year old, and then again to the small town of Gibsons, BC when I was three. I grew up in Gibsons and went to elementary school there, but when it came time to go to high school I went back to Vancouver to attend Eric Hamber Secondary. Thanks to the Challenge Program I was able to finish in just four years instead of five, and started my B.Sc at the University of British Columbia when I was just 16 years old.
Some detours and interesting side-adventures later, I graduated with a B.Sc in Physics from UBC, and then got my Bachelor's of Education from UBC a year later. I taught at Kester Grant College (a private ESL high school) and then Saint George's Secondary for a year, then decided teaching wasn't for me and went on to other prospects.
For five years I worked at a software development company in Vancouver as a software developer and technical writer. I tried the scary world of startups, then found a new technical writer job at an online game development company.
Marital status
Married since 2001 to my wonderful soul mate Jennifer. Quite simply the most amazing woman in the world. She is intelligent, gorgeous, caring, funny, and just all-around amazing.
Kids
None.
Pets
None, although I did once have a beautiful tortoiseshell cat named
Zoe.
Education
Bachelor of Science, Physics, University of British Columbia (1996)
Bachelor of Education, Secondary (Physics), University of British Columbia (1997)
Certificate of 2D and 3D animation, Vancouver Training Institute (1999)
Diploma of Technical Writing, British Columbia Institute of Technology (2007)
Project Management Professional, Project Management Institute (2010)
Vital stats
Age: 49
Height: 6 feet
Weight: 172 lbs (more muscle than a couple of years ago!)
Teeth: Still got 'em
Current computers owned
6x3.5GHz Intel i7 6900K running Windows 10 (BEAST)
8x3.2GHz Apple M1 Macbook Pro running macOS 12.4
4x2.8GHz Intel Quad Core running Linux Mint
Small form factor Zotac computer running Linux Mint
Raspberry PI running Raspbian
1MHz Z80 Heathkit H89 running CP/M (Hardware dead, software preserved through
emulation
)
Many of my old computers have gone to Silicon Heaven!