Posted on: 2020-08-17 17:18:00.000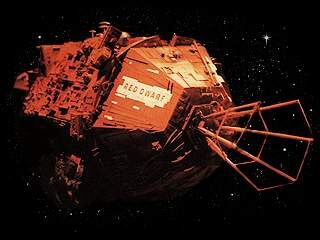 I remember my mother cutting out the snippet in TV guide and showing it to me excitedly. "I think this show is right up your alley!" She was absolutely right.
It was the summer of 1988. I had come home to the small town of Gibsons, BC after graduating from high school. I was working at the public library to pay for university, but I got off work just in time to watch this crazy new British sitcom. It was about the last man alive, stranded three million years in the future on a giant mining ship with a hologram of his dead bunkmate and a creature who evolved from his pet cat.
It was Red Dwarf, and it was as brilliant then as it is today.
I still remember the excitement I felt each week as I rushed home, and the joy I experienced when I heard the theme song. Particularly, I remember a kind of whooshing feeling, a unique form of euphoria I've never had before or since, when Episode Six began instead with the song "Tongue Tied":
I tried to say "I love you" (love you)
But it came out kind of wrong, girl (wrong girl)
It sounded like "Nunubididoo" (tongue tied)
Nuh-mur-nuh-murh-ni-nong-nurl
That's 'cause you make me tongue tied (tongue tied)
Tongue tied
Whenever you are near me (near me)
Right from the get-go, something about this show just clicked with me. It took all the tropes of the science fiction I loved and played with them, paying homage to them in a loving yet utterly irreverent manner. And despite all the crazy genetically-engineered monsters of the week, it was ultimately about one human, Dave Lister, and his relationship with another person who was simultaneously alive and dead. Arnold Rimmer was annoying, hilarious, and yet relatable. He was Lister's greatest nemesis and his best friend. He was a joke and yet he was all of us.
When Rimmer tried to copy all his notes for his astro-engineering exam on his arm, then looked aghast as nervous sweat turned it all into a black blob, I could feel his anxiety and pain. Exams made me feel the same way: even though in Physics classes we were allowed to bring a one-page "cheat-sheet" filled with anything we wanted, when it came time to sit for the test all those symbols and equations seemed to blur together like they did on Arnold's arm. When he slapped down a black, inky handprint on the exam paper and signed it, my laughter was cathartic. I'd been there.
Dave Lister was all of us, too. Kind-hearted yet sloppy. Smart but lazy. Forever blessed and cursed by his own potential. And haven't we all felt like the last human being alive sometimes?
The show went on for many years, growing in budget and special effects, and—for a while, at least—never losing the magic that made it special. Some of the best episodes came from the sixth season. Still, inevitably it sagged a bit from having to live up to its own success. Season 7, where Dave meets a parallel-universe version of his dream woman, Kristine Kochanski, felt a bit off. They had replaced the incredibly cute Claire Grogan with a the younger and "sexier" Chloe Annett, and the relationship never felt right again. Season Eight found the crew reunited with the old Red Dwarf crew (resurrected by nanobots) and then promptly thrown in prison. It was a bold move to keep the series fresh, but mostly it felt weird and uncomfortable.
And then the show went away. By this time it was the end of the 90s, and it felt like maybe Red Dwarf's time had passed. The actors went on to do other things. It was seemingly a pleasant memory, a reminder of happier and simpler days.
But then something happened. Something wonderful.
In 2009 a new, all-digital channel in the UK called "Dave" commissioned a three-part episode of Red Dwarf called "Back to Earth". Going completely metaphysical, the show imagined the characters warping to a different reality—our-reality—in the present day, and coming to grips with the idea that they were only characters on a TV show. Fortunately, it all turned out to be just a ruse concocted by another Despair Squid, and they returned to their "real" reality once again.
I thought the story had ended there. But just recently I discovered that there were three more six-episode seasons: Season 10 from 2012, Season 11 from 2016, and Season 12 from 2017, all made again for the Dave network. I found them on the "Britbox" channel that you can get as an add-on to Amazon Prime Video.
It was an amazing feeling, sitting down and watching these characters that I had loved thirty years ago, slip effortlessly into their old roles. Out of character, the actors are visibly older. But through the magic of makeup and the power of imagination, once they are in costume they seem to have aged barely at all. It's like seeing old friends that you knew from elementary school and laughing with them at hilarious jokes that you both remember.
To cap it off, the team made a full-length movie that was released in 2020—I was able to purchase it on iTunes. Red Dwarf: The Promised Land finally reunites the Cat with his long-lost brothers and sisters who have been wandering through space for thirty years in a fleet of ships arranged like a cat face. The cat folk are oppressed by a tyrannical leader, and the Red Dwarf crew must do their best to set things straight. It's a marvelous coda to the Red Dwarf story, and yet it still leaves room for more adventures.
To which I say, yes please. Smoke me a kipper, skipper. I'll be back for breakfast.
My top ten episodes of Red Dwarf:
10: "Skipper": S12E06: Rimmer obtains a Quantum Skipper and goes hopping about the multi-verse to find a dimension where he isn't such a giant loser. We see Captain Hollister again, among other old friends.
9: "Camille": S04E01: Kryten rescues a mechanoid from a crashed spaceship and falls in love, but she turns out to be a genetically-engineered polymorphic creature.
8: "Out of Time": S06E06: The crew pick up a time-travel device, but then have to fight off their future selves who have turned into corrupt and immoral hedonists.
7: "Stoke me a Clipper": S07E02: "Ace" Rimmer (see below) returns to try and accomplish an impossible task: to recruit Arnold Rimmer to become the next Ace.
6: "Dimension Jump": S04E05: The crew meet "Ace" Rimmer, a counterpart from another dimension who is impossibly more charming and successful than Arnold, and it drives Arnold nuts. A classic.
5: "Marooned": S03E02: A "bottle" episode where Rimmer and Lister are trapped on a snow-covered planet. Great dialogue and character moments.
4: "Parallel Universe": S02E06: Holly transports Red Dwarf to a parallel universe where women are the dominant gender, and Lister and Rimmer meet their female counterparts.
3: "Stasis Leak": S02E04: The crew finds a time portal connecting to a point three weeks before the crew are wiped out. They can't save anyone, but Lister finds that an older version of himself has married Kochanski.
2: "Holoship": S05E01 Rimmer finds a hologrammatic space ship and gets everything he ever dreamed of, yet the price he has to pay is too high. Sweet and poignant.
1: "The End". S01E01. The first episode of the series. Set up the premise and sends Lister, Rimmer, and Cat on their way to adventure.