Showing topics tagged as: Writing
Post #:
262
Post type:
Blog post
Date:
2019-08-20 17:14:51.000
Author:
Jeremy Reimer
Tags:
Writing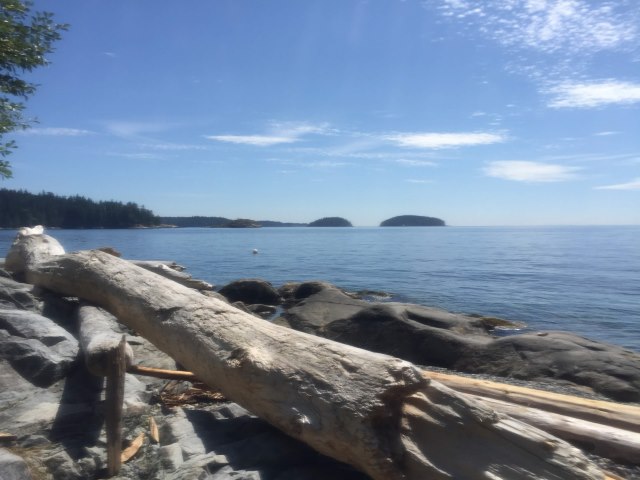 You eagle-eyed observers out there will have noticed that I haven't been posting as much on my blog lately. To some degree this is the nature of blogs themselves— unless they are an actual business, there are going to be natural gaps when the author's interest waxes and wanes. Many people think that the age of blogs is over. If nobody cares about anything except Twitter and Instagram anyway, what's the point?

Well, I've never been one to follow the crowd.

In the past this blog has been a place for me to post anything and everything that interests me, from Starcraft to LEGO to movie reviews about legendary figures in personal computing. That's not going to change, but I'm going to focus more on my fiction writing from now on.

I'll be posting at least once a week, so there will be a regular cadence of updates. Once a month, on the 15th, I'll continue to send out my writing newsletter via email. If you sign up for this, you'll get exclusive free micro-stories set in the same universe as my science fiction.

Speaking of my science fiction, I'm excited to reveal the title of my next novel, coming out later this year! It's a hard sci-fi novel set on Mars in the year 2072, and it features artificial intelligences, sexy robots, a bizarre love triangle, and a fight for the future of all humanity. It's called Silicon Minds of Mars, and I'll announce it officially next week.

Stay tuned!
Views: 60
---
Post #:
251
Post type:
Blog post
Date:
2019-06-04 23:22:57.000
Author:
Jeremy Reimer
Tags:
Writing
I've thought about doing this for years, but I'm finally taking the plunge.

My monthly newsletter is going to be a place where I can communicate directly to my readers and to other fellow authors. I'll be talking about the writing, editing, and marketing process, as well as including sneak peeks of my upcoming works.

Come join the fun!

https://tinyletter.com/jeremyreimer
Views: 446
---
Post #:
234
Post type:
Blog post
Date:
2015-04-02 09:41:00.000
Author:
Jeremy Reimer
Tags:
Writing, Gaming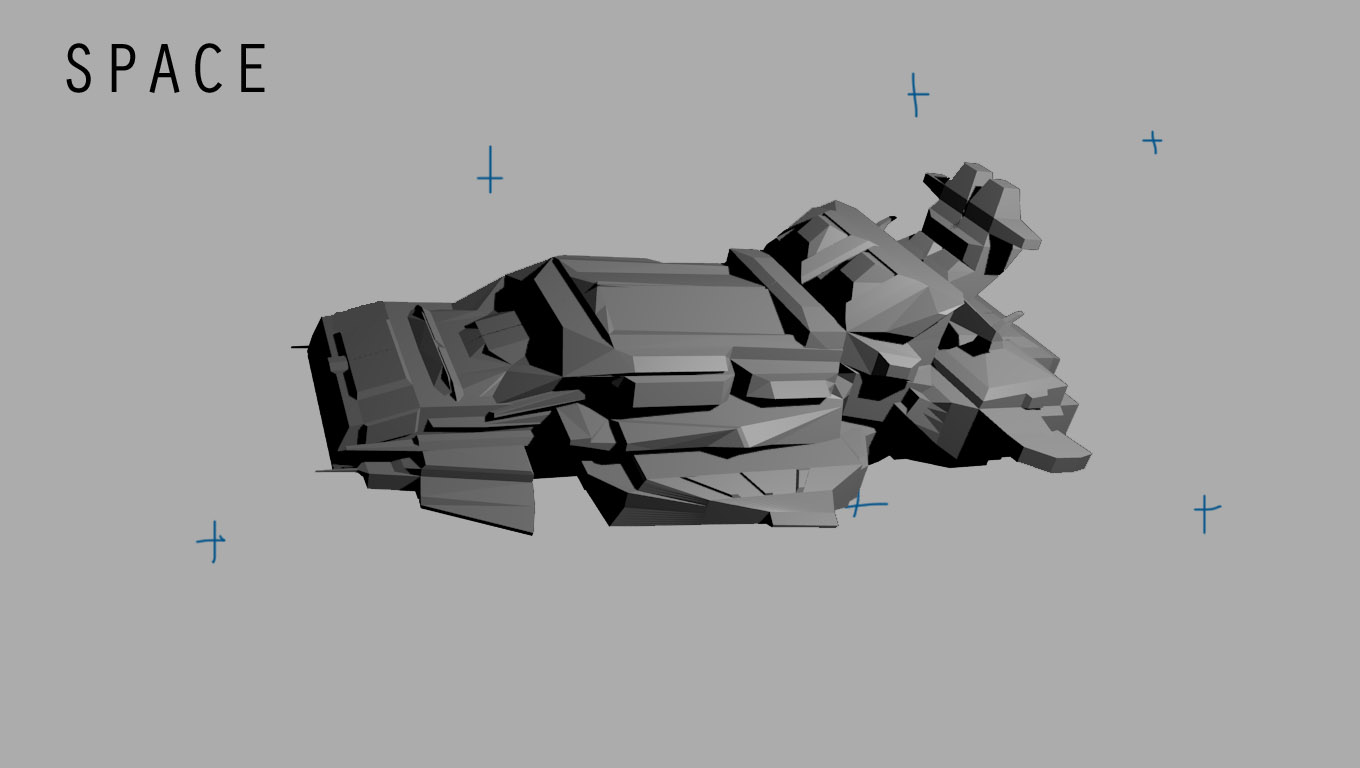 Software developers are notorious for underestimating how much time their projects will take to complete. It's not borne of ignorance or maliciousness, but rather optimism: one always thinks that everything will go as well as it possibly could. Reality has different ideas.

My initial estimate for completing my first visual novel was an optimistic six months. I'm now thoroughly stuck into development, and my revised estimate is about double that figure, although if I'm in line with estimates made anywhere else by anyone else ever, that figure will probably end up tripling.

Nevertheless, I'm really enjoying the development process. I started (as writers might) with the character outlines and then the script, but I found that keeping track of all the branching paths for the dialog in Scrivener was awkward and looked sort of like pseudocode. So I saved a step and moved into writing the game code itself, in a text editor, using the Ren'Py engine.

As I was essentially writing the game itself at that point, I needed art assets, and I was writing faster than I could create them. So I whipped up some really rough backgrounds and character sketches in Photoshop and used them as placeholders. They look terrible, but they get the job done. At the same time, I started in on some of the 3D assets using Blender, as you can see from this first look at the Furious space carrier, the seat of all the action in the game.

There are eight main characters (not including yourself and the Furious' Captain) in the game, and six primary locations on the Furious. I've outlined the main arc of the plot, and it features eight flight missions with an "intermission" between each one where the player does most of the interaction with the characters. In theory, this should lead to a fairly simple game, but the number of interactions and branching paths can quickly get out of control.

To avoid getting into infinite branches, the primary plot elements are fixed. The main thing the player has control over are dialog options with the various pilots in between missions. Depending on what options the player chooses, pilots will gain or lose points in various internal characteristics, like affection (towards the player), confidence, or skill. These variables will affect the outcomes of future missions.

I'm trying not to make the dialog choices black and white, "you are great/you suck" options. My primary inspiration are the Telltale game series, like Game of Thrones, where you are often presented with two options that both seem bad in different ways. The hard part is making sure that these decisions affect the outcome of the game in a meaningful way. A recent game that does this really well is Dontnod's Life is Strange, where the player can make significant changes to the plot by paying attention to small details in the environment and dialogue.

For me, writing this game is a huge learning experience, and I'm bound to make some mistakes along the way. Fortunately, my fears about doing a bad job are outweighed by the sheer fun of actually doing it. It's just about the optimal balance for me of writing, storytelling, programming and artistic design. So stay tuned!


Views: 4257
---
Post #:
232
Post type:
Blog post
Date:
2014-12-09 09:13:12.000
Author:
Jeremy Reimer
Tags:
Writing, Science Fiction, Gaming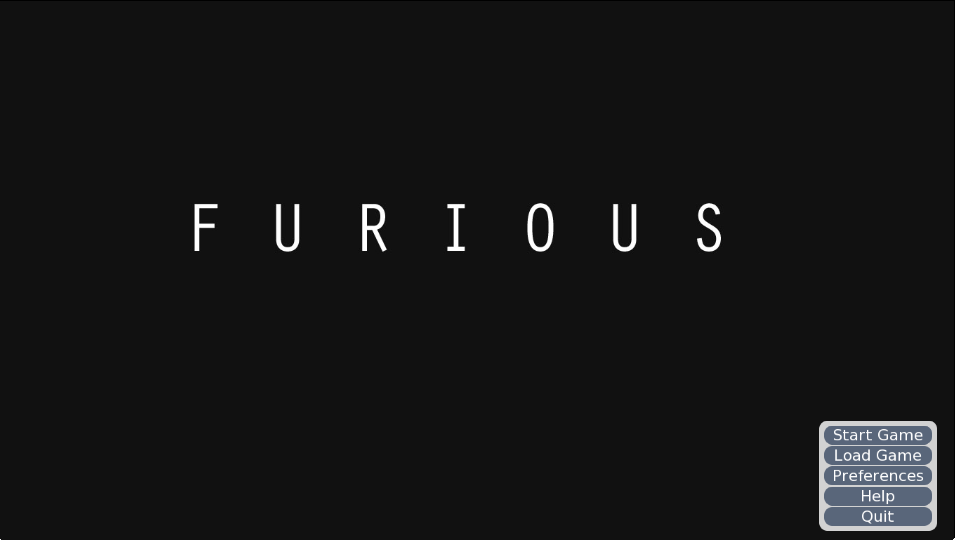 After playing Christine Love's amazing games Digital: A Love Story and Analogue: A Hate Story (which I reviewed here) I became obsessed with the possibilities of visual novels. They reminded me a bit of the Choose Your Own Adventure books that I adored as a child, but with many new possibilities and experiences that those books couldn't offer.

I also loved them because they combined my two great loves: writing and gaming. Unlike with most games, where the story served as mere window dressing, visual novels put the writing front and center. So as I was casting about wondering what to write next after completing my science fiction novel trilogy, it struck me: why not make a visual novel myself?

The idea seized hold of me and wouldn't let go. Unlike the effort required to make a full game (or even an extensive game mod), creating a short visual novel seemed like it was within my grasp. Usually these games are made with a writer and an artist collaborating together, but I love dabbling in basic 3D rendering and 2D drawn art, so why not do both? In fact, the first idea I had for a visual novel was a story I called "I only want to do everything", based on an AI that slowly learns how to live in a virtual world of its own creation. That idea turned out to be too open-ended and complex for my first visual novel, but I might return to it at a later date.

The story I ended up deciding on is a prequel to my trilogy of sci-fi novels. It is set on the Jaguar-class light carrier Furious during the first Earth-Zruthy war. This war is mentioned in Edge of Infinity by the protagonist Jack Davidson, whose parents were killed during that conflict. I never got a chance to delve more deeply into the war before now. Why were the Earth forces and the Zruthy fighting? What was the war like? How did it end? This visual novel gives me a chance to answer these questions.

The player portrays the fighter commander of the Furious, who was injured in combat and slowly recovering his or her memories. The player must talk to six different pilots on the ship, all of whom have very different personalities, likes and dislikes, and interests (I asked my wife, who is very interested in Myers-Brigg personality types, to help me with the character creation). By talking with the pilots before and after they fly out on missions, the player can subtly influence how they will perform under pressure. This will become more and more important as the missions get increasingly dangerous.

I'm having a blast creating the game in the Ren'Py visual novel engine, which is written in Python. Creating a visual novel is just the right combination of art, programming, and writing. I have no idea how long it will take to complete, but I'm estimating about six months right now. I can't wait to finish it and show it to the world!

Comments (2)
Views: 4737
---
Post #:
227
Post type:
Blog post
Date:
2014-10-03 21:17:53.000
Author:
Jeremy Reimer
Tags:
Writing



If you're in the area tomorrow, why not stop by at VCON, the Vancouver Science Fiction, Fantasy, and Gaming convention?

VCON is an incredibly fun little convention that is celebrating its 39th yearly event. It's held at the Sheraton Guildford Hotel in Surrey on Friday, Saturday, and Sunday (October 3-5).

I'm going to be on two panels on Saturday: The Future of Gaming (at 12:00) and Secrets of the Game Masters (at 2:00). This is the first time I've ever been on any convention panels, and I'm really excited! It's going to be very cool.

Hope to see you there!


Views: 5647
---
Post #:
225
Post type:
Blog post
Date:
2014-06-24 12:07:59.000
Author:
Jeremy Reimer
Tags:
Gaming, Writing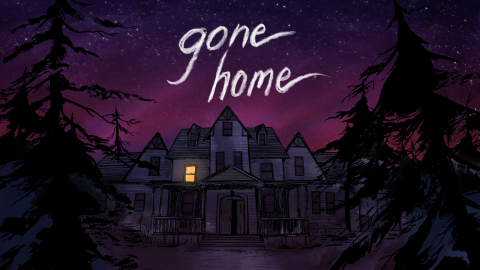 Gone Home got a lot of positive press when it was released last August, but many people bristled at the idea of paying $20 for what was ultimately a very short, if innovative, gaming experience. Yesterday I picked it up on a Steam Sale for $2.99 and enjoyed every minute of it. While I finished the game in a single evening, I found myself still thinking about it the next day, and I suspect I will continue to mull it over for some time to come. There is depth in this game, and artistry. The developers clearly had something to say, and they communicated their message in a new and unique way.

The game begins in June 1995. You are a female protagonist, Kaitlin Greenbriar, returning home after a year-long trip to Europe. When you get home, there is a note on the door from your younger sister, Sam, saying that she was sorry she couldn't meet you. Your parents are nowhere to be seen. The combination of an empty house, flickering lights, and a howling storm outside creates a spooky atmosphere. As you move through the house you are tempted to turn on every possible light and leave them on. There are no other people to interact with in Gone Home, but a story is told through voice-overs from your sister Sam that trigger when you examine certain objects. Whether these are simply letters that Sam wrote or tapes she recorded isn't entirely clear, but they serve as the backbone of the story. In addition to these voice-overs, there are tons of little clues strewn throughout the house: letters, invoices, detention slips, and so forth. Many objects can be picked up, examined, and even moved around the house, but only a few have significant meaning. I found myself picking up pens from drawers and leaving them on top of tables, just for fun.

As you proceed through the house you end up unlocking new sections and learning more about your sister and your parents. Your father once wrote a couple of science-fiction books involving time travel and the assassination of JFK, but fell out of favor with his publisher and ended up doing contract work writing reviews for a consumer electronics magazine. As an aspiring novelist who pays the bills as a technical writer, this resonated with me. Sam is also an aspiring writer, as you discover when you find ever-evolving stories from various point in her childhood. You also learn about Sam's growing and complex relationship with her friend Lonnie, which becomes the driving point of the narrative.

The puzzles in Gone Home are fairly easy to solve. This isn't like the adventure games of old where you had to find the blob of guacamole and attach it to the rubber chicken with the pulley in it, just so you could get past the annoying clown. Instead, the game rewards slow, thoughtful exploration. There are tons of objects to find in each room that give more background information about your parents and even the original owner of the spooky home. It turns out that the family had just moved into the house (packing boxes are visible everywhere) while your character was on vacation, so it makes perfect narrative sense that your character would be exploring the house for the first time. This brilliant move puts you and your character on the same footing, making the experience even more immersive.

The choice of 1995 as the time frame for the game was a deliberate one by the designers, as that was the last year before information technology became ubiquitous in family life. This also makes the game a great nostalgia trip for finding all the trappings of mid-90's life that have since vanished: tape cassettes and recorders, VHS tapes and VCRs, Super Nintendo, and answering machines.

I loved every moment of Gone Home. Although the flash sale is over, it's still only $4.99 from the Steam Store, and it runs on Windows, Mac OSX, and Linux, so there's no excuse for you not to play it!
Views: 4282
---
Post #:
223
Post type:
Blog post
Date:
2014-03-31 21:40:24.000
Author:
Jeremy Reimer
Tags:
Writing, Work
That side panel on the left of my blog continues to taunt me. Beyond the Expanse! 100% Complete! Now in Editing!

It's been in editing for months. I think I've edited about five pages so far.

My excuse is that I'm tired from my job. Working at DemonWare has been a thrilling roller-coaster ride so far. I've never had the pleasure of working alongside so many smart people. There's an endless amount of interesting technical things to learn, and an endless amount of things to write. This is a company that has grown explosively over the last few years and they desperately need someone to tame the mess of information that they've created.

So desperate that they've renewed my contract for another six months.

I'm thrilled, naturally, but a part of me wonders if that damn sidebar on the left hand side of my blog is going to have to sit idle even longer.

Up until now I've felt that all I could do was come home from work, eat dinner, maybe watch a bit of TV, and then collapse into bed. It's an easy excuse. This is a demanding job at a company that demands top performers and gives them top salaries and benefits to match. With these demands, surely I need to conserve my mental energy to be able to give my best work, right?

And yet I wonder.

Every day I come home and I don't work on my personal projects, I feel like I lose something of myself. And if I keep losing myself, won't that just lead to a diminished soul, and thus a diminished work performance?

So I'm trying something new. Every day, for as long as I can keep it up, I'm going to do something creative for myself. It could be writing, it could be editing, it could be anything. Today is the first day, and I'm writing this blog post. It's not much. But it's something.

There are a lot of excuses for not working on your dreams. But not very many good ones.

I'll see you tomorrow.


Comments (2)
Views: 4821
---
Post #:
221
Post type:
Blog post
Date:
2013-12-27 09:11:30.000
Author:
Jeremy Reimer
Tags:
Writing, Science Fiction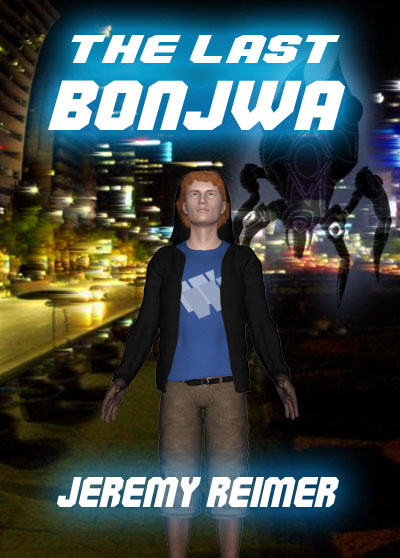 I've watched hundreds of hours of professional Starcraft matches. I have my favorite players and teams who I cheered for when they won and cried when they lost. I've immersed myself in the unique and wonderful world of professional gaming, of this tiny (but growing) subculture called eSports.

Today, I'm releasing my love letter to the game and the scene itself. It's a full-length novel titled The Last Bonjwa.

The Last Bonjwa follows the adventures of John "Heart" Wolanski, a professional Starcraft player living in Korea. It's a few years in the future in an alternate timeline, so the names of players and teams are different, but fans of the scene will recognize many similarities to our own universe.

John is nearing the twilight of his career, and the popularity of the game itself is waning, but he refuses to go down without a fight. But when he receives a threatening email, he is suddenly thrown into a world he knows nothing about, as he must fight shadowy forces who are out to kill him, all while trying to qualify for the biggest tournament of his life.

The Last Bonjwa is a fast-paced action adventure, but it's also a peek into the fascinating world of eSports seen through the eyes of a player. It is a sequel to my short story "The Stalker", in which John encountered an artificial intelligence inside the game itself.

The Last Bonjwa is now available on Smashwords in a variety of eBook formats for all viewers, all DRM-free, for $2.99. No knowledge of the game is required to enjoy the story, but familiarity with it will make the tale seem even richer.
Views: 5133
---
Post #:
217
Post type:
Blog post
Date:
2013-11-04 15:39:06.000
Author:
Jeremy Reimer
Tags:
Writing, Science Fiction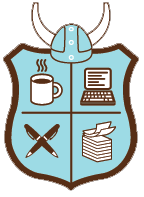 After finishing my third novel in my trilogy (it's still in editing) and starting the planning for a series of short stories, I wasn't sure if National Novel Writing Month was a good idea. I had lots of projects on the go, and what could I possibly do in a month?

Then I remembered my short story The Stalker, which came out of my love for professional Starcraft. It had a lot of downloads in October, and for the first time even beat out my science fiction short story Starfarer. I had always told myself that if The Stalker did well enough I would make a full-length novel out of it.

Well, this was my chance!

The novel is called The Last Bonjwa and after three days, I've written 5,000 words, on pace for the goal of 50,000 by the end of November. I'm already really excited about this story because the faster pace of writing is showing up in the text itself. In just those first 5k words, our hero has won a tournament, gotten blackmailed, lost his best friend, got kidnapped, been interrogated by shady government people, had his apartment broken into, and was chased off a train by a tall stranger in a dark overcoat.

I have no idea how I'm going to tie everything together but I'm having a blast trying. The novel is also kind of a love letter to the professional Starcraft scene and Korea itself.

Look for it in time for the holidays along with Beyond the Expanse!

EDIT: A WINNER IS ME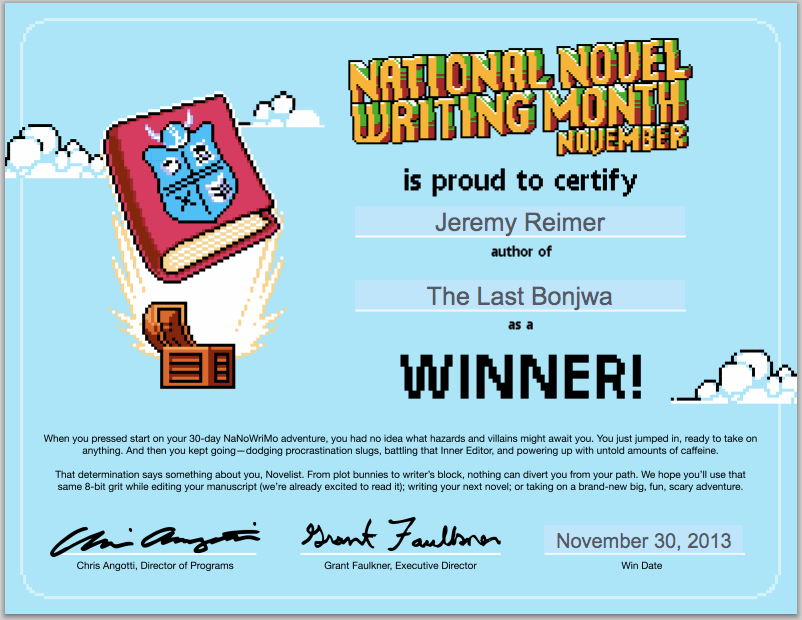 Comments (3)
Views: 4530
---
Post #:
216
Post type:
Blog post
Date:
2013-10-29 10:37:01.000
Author:
Jeremy Reimer
Tags:
Writing, Science Fiction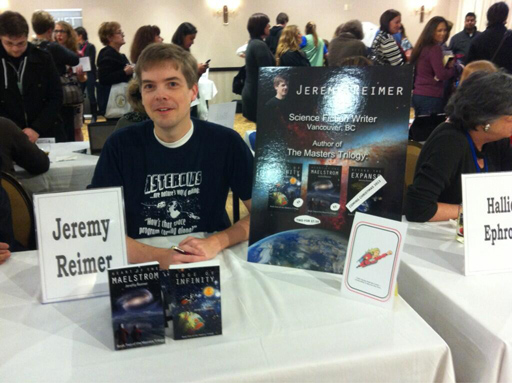 I had an amazing time at the Book Fair last Saturday. It was a brand new experience for me and I couldn't have asked for more.

The Book Fair is an interesting event. Independent authors are mixed in with established traditional authors, so there was plenty of opportunity to meet people on the other side of the publishing equation. I shared a table with Don "DD" DeBrandt, a long-time science fiction and fantasy author who is working on his twenty-sixth novel! Don was a great companion and had lots of stories about his writing career. He was impressed with my poster and bet me a nickel that someone would ask for one of my autographed books before they asked for one of his. Hey, Don, you still owe me that nickel!

I did sell a couple of copies of my book, but that wasn't the main purpose of attending the event. It was mostly to get some experience and meet interesting people, and show my name as a local author. In all of these aspects it was a great success. People really did like my poster and asked me how I made it and how much it cost (Photoshop, and $40 at Kinko's). I got to talk about science fiction and future technology with other writers and fans, which was amazing.

I'm definitely going next year!


Comments (1)
Views: 4464
---