The Masters Trilogy
Archives
Most popular blog posts

Recent forum posts
Discussion
Information
Posts tagged as: Software Operating Systems
Posted by: Jeremy Reimer on Mon Jan 30 13:41:42 2012.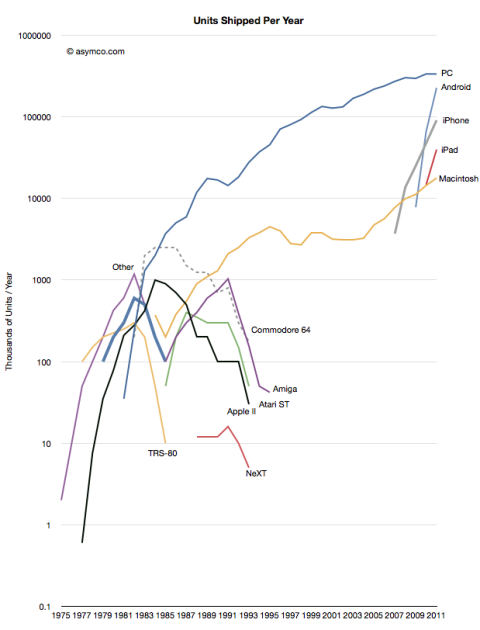 Many years ago I became obsessed with personal computer market share. I remember wanting desperately to argue with other geeks on the Internet about whether the Apple ][ had a greater share than the Commodore 64 or vice versa, but the problem was that nobody seemed to have this information.

One night I went into insane researching mode and stayed up until three in the morning trying to find the answers to my questions. I gathered up all the numbers, and put it on a single page, for which I did no advertising. For years it was the #1 or #2 result for Googling "personal computer market share", simply because nobody else had bothered to tally up these numbers.

You can visit the page here:http://jeremyreimer.com/postman/node/329

or read the more full-featured article I wrote for Ars Technica based on these numbers here:http://arstechnica.com/old/content/2005/12/total-share.ars

After this, I gradually lost interest in the whole concept of market share, mostly because it was (for me) a solved historical problem now, but also because I moved on to other things.

Then out of the blue I found this article that had taken my numbers, moved the whole graph to a really cool logarithmic scale, and added data for iPhones, Android phones, and iPads!

http://www.asymco.com/2012/01/17/the-rise-and-fall-of-personal-computing/

This is a really cool example of people building on top of other people's work, without having to ask permission but being nice about attribution. It's nice to see the data I had long forgotten about being used in new and novel ways.
Views: 4648


---
About me
I'm a writer and a web developer. You may have read my articles at
Ars Technica
, where I write about the Amiga computer, video games such Starcraft, and the history of personal computing.
I write science fiction novels and short stories. You can read more about them
here
.
I'm also the creator of the rapid application development framework
newLISP on Rockets
, which powers this blog and a number of other sites.
I do a podcast with my friend Terry Palfrey called
Knotty Geeks
, where we focus on the 'big picture' impact of technology on our lives, with the two core themes being acceleration and convergence.
Blog topics
3D Modeling
About Me
Amiga
Articles
Audio
Blog
Blogs
Book review
Comics
Computers
Computing
Conventions
Daily update
Entrepreneur
Family
Forum post
Gaming
Gaming Starcraft
Internet
Jeremy Birthday
Knotty Geeks
Knotty Geeks (video)
Market Share
Masters Trilogy
Monarch
Movies
My Non-Fiction
My Science Fiction
NewLISP Blog
Novels
Operating Systems
Pets
Poll
Reviews
Science Fiction
Servers
Software
Software Operating Systems
Space
Star Gamer
Star Trek
Starcraft
Television
Testing
Toys Childhood
Wedding Marriage
Work
Work Life
World
Writing
Achievements