Posts tagged as: Monarch
Posted by: Jeremy Reimer on Mon Mar 5 14:08:25 2012.
I was going to do this when I first released Monarch, but it seemed hard so I didn't actually get around to doing it.

Until now.

To prevent spammers that can read even the most twisted words and phrases, I've implemented my own version of Kitten Captcha, something I wrote about on Ars way back in 2006 here:

http://arstechnica.com/old/content/2006/04/6554.ars

Well, I've finally done it. The system displays a bunch of random pictures and a new user has to select all the pictures that are in fact cats. The file names are all randomized so that a spambot can't just guess what they are, and you have to pick only three out of the ten images so you can't just select everything.

I deleted all the spam accounts that OSY 3.0 had accumulated (about 30 of them!) and so we'll see how this new system works. I hope it both discourages bots and encourages new users due to its being cute and cuddly.

Here's a screenshot of the page in action: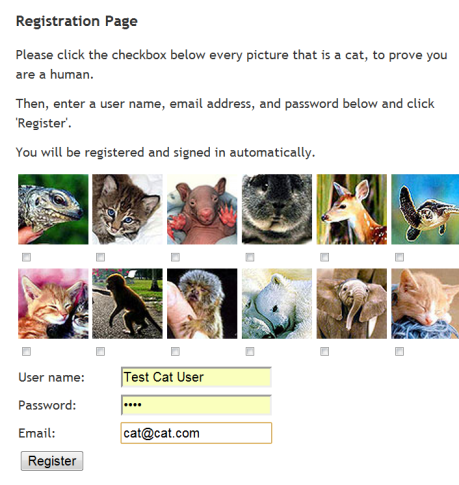 Views: 5064 Comments: 3
Posted by: Jeremy Reimer on Mon Dec 13 11:34:59 2010.
Now that Monarch has been released to the public at version 0.24, I've decided to crank things up a little bit.

Starting today I will add one feature per day to the system. They may not always be big features, but they will address missing functionality that the old system (both Drupal and PHPBB) offered.

I have no particular order that I plan to do these in, but I'm trying to hit the most obvious ones first-- the ones that you would use all the time.

Monday's feature is a Last Post link, to let you instantly jump to the last post in a thread by clicking on the name/date in the "Last post" column.

EDIT: Testing smilies in blog posts.
Views: 16964 Comments: 38
Posted by: Jeremy Reimer on Sat Dec 4 18:31:22 2010.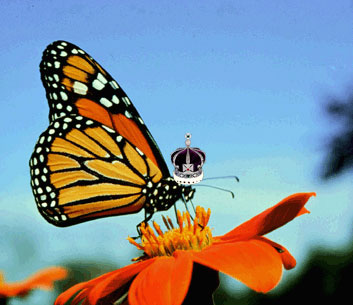 Monarch Content Engine
Version 2.01 (February 2013 - Rockets Edition)
Development Team
Development Platform
newLISP 10.2.8 - front end coding


newLISP on Rockets 0.32 - web framework


SQLite 3.7.3 - back-end database
Views: 9219 Comments: 6


---
About me
I'm a writer and a web developer. You may have read my articles at
Ars Technica
, where I write about the Amiga computer, video games such Starcraft, and the history of personal computing.
I write science fiction novels and short stories. You can read more about them
here
.
I'm also the creator of the rapid application development framework
newLISP on Rockets
, which powers this blog and a number of other sites.
I do a podcast with my friend Terry Palfrey called
Knotty Geeks
, where we focus on the 'big picture' impact of technology on our lives, with the two core themes being acceleration and convergence.
Blog topics
3D Modeling
About Me
Amiga
Articles
Audio
Blog
Blogs
Book review
Comics
Computers
Computing
Conventions
Daily update
Entrepreneur
Family
Forum post
Gaming
Gaming Starcraft
Internet
Jeremy Birthday
Knotty Geeks
Knotty Geeks (video)
Market Share
Masters Trilogy
Monarch
Movies
My Non-Fiction
My Science Fiction
NewLISP Blog
Novels
Operating Systems
Pets
Poll
Reviews
Science Fiction
Servers
Software
Software Operating Systems
Space
Star Gamer
Star Trek
Starcraft
Television
Testing
Toys Childhood
Wedding Marriage
Work
Work Life
World
Writing
Achievements