Posts tagged as: Jeremy Birthday
Posted by: Jeremy Reimer on Thu Mar 22 16:11:16 2012.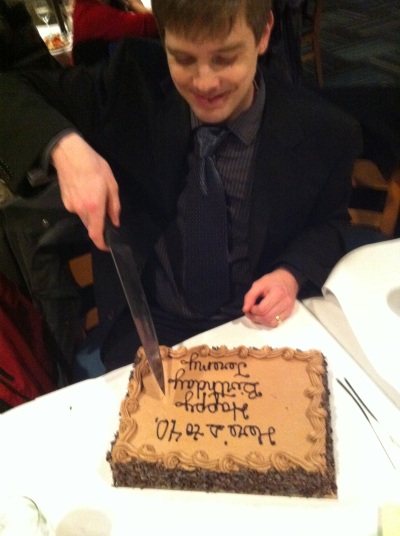 I've had a week to think about this now, so here we go.

My 40th birthday went exactly as I had wanted it. I had a nice dinner celebration with family and friends, I gave a very short speech, and everyone had a good time. There was cake. The next day I played Shadowrun with friends, and the day after Jen and I went to Victoria and stayed at the Empress. We did In-Room Dining and Afternoon Tea.

It was absolutely awesome.

Now I have some time to reflect on what this next decade means for me. My 20s were characterized primarily by the search for a life partner, which I achieved when I married Jennifer in 2001, when I was 29. My 30s were all about searching for a career, for some place I could go work where I felt my talents were well utilized and I could make a difference. By the time I was 39, I felt I had achieved this. I had not only found a great company but created my own dream job within that company. This wasn't easy to do by any means, but it happened, and it has given me great satisfaction.

So what's next?

There are clearly things left to on a personal level, both at work and away from work. I'm working hard on the sequel to my first novel, and I'm still writing articles for Ars Technica, both things I did during my 30s. I have all sorts of new goals and projects at work. These things aren't going away.

But if I had to define a long-term objective for this decade, it would be this: to create something new and deliver it to the public. Not a book, although I'm doing that as well. No, this is something much greater in scope, and something that I hope reaches a larger audience. I'm not quite ready yet to reveal what it is, but it is going to be awesome.
Views: 4665 Comments: 2


---
About me
I'm a writer and a web developer. You may have read my articles at
Ars Technica
, where I write about the Amiga computer, video games such Starcraft, and the history of personal computing.
I write science fiction novels and short stories. You can read more about them
here
.
I'm also the creator of the rapid application development framework
newLISP on Rockets
, which powers this blog and a number of other sites.
I do a podcast with my friend Terry Palfrey called
Knotty Geeks
, where we focus on the 'big picture' impact of technology on our lives, with the two core themes being acceleration and convergence.
Blog topics
3D Modeling
About Me
Amiga
Articles
Audio
Blog
Blogs
Book review
Comics
Computers
Computing
Conventions
Daily update
Entrepreneur
Family
Forum post
Gaming
Gaming Starcraft
Internet
Jeremy Birthday
Knotty Geeks
Knotty Geeks (video)
Market Share
Masters Trilogy
Monarch
Movies
My Non-Fiction
My Science Fiction
NewLISP Blog
Novels
Operating Systems
Pets
Poll
Reviews
Science Fiction
Servers
Software
Software Operating Systems
Space
Star Gamer
Star Trek
Starcraft
Television
Testing
Toys Childhood
Wedding Marriage
Work
Work Life
World
Writing
Achievements