Edge of Infinity (Kindle Edition) now on Amazon!
Posted by: Jeremy Reimer on Wed Jun 29 16:19:09 2011.
I've finally put my first novel (Edge of Infinity) on the Amazon Kindle store!

Please, if you own a Kindle, or an iPhone, or an iPad, or a Windows PC, or a Macintosh, and like awesome books that are awesome, consider purchasing a copy today!

Here is the link:

http://www.amazon.com/Edge-Infinity-Masters-Trilogy-ebook/dp/B00589OMCK/ref=sr_1_1?ie=UTF8&m=AG56TWVU5XWC2&s=books&qid=1309389209&sr=8-1

Here is a shorter link in case that one doesn't work:

http://www.amazon.com/dp/B00589OMCK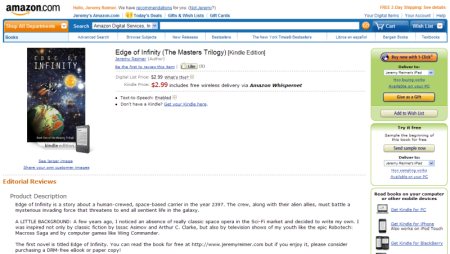 ---
Views: 4409
Comments:
By DART Consulting on Thu Jul 28 04:55:24 2011
It is really great to see that Jeremy Reimer is a multi-talented person. Congrats for putting the first novel on the Amazon Kindle store. I have a Windows PC and I am eager to buy a copy of the novel. Thanks for the additional link if the former doesn't work. My wishes are with you that maximum online users may enjoy your creativity.
By Jeremy Reimer on Thu Jul 28 20:23:53 2011
Wow, the spambots have gotten much more sophisticated when I wasn't looking.
By Harby on Tue Aug 2 19:31:23 2011
Huzzah!

For the publishing -- not the spambots.